You might remember that a couple of years ago Patrick and I rented a Westfalia Vanagon camper for a long weekend and that we loved it. In fact, at the end of that post I said,
Would we rent a camper again? Yes! Might we buy one? Yes, yes, YES!
Well, what with one thing and another, and lots of debating the pros and cons, we finally started looking for a van in earnest about a month ago. Patrick scoured the ads on Craigslist and Used Victoria, and when he saw a likely candidate, we tootled off for a looksee.
We saw vans in Victoria, Saanich, Cobble Hill, Parksville, Fanny Bay, and even Coquitlam, but none of them were suitable – they were too rusty, too rough on the inside, the wrong colour (kidding!), registered in the wrong province (which meant importing it and having it inspected, and paying to fix anything that didn't pass inspection), not registered at all (which meant we couldn't take it for a test drive), an automatic when we wanted a standard, outside our budget, too rusty, too rusty, too rusty…
In the meantime, Patrick was supposed to be finishing his thesis for his M.S.
Finally we had to admit that buying a van was really what Steven Pressfield would call Resistance – ie. Patrick's way of avoiding working on his thesis (nevermind what I was supposed to be doing – let's not go there!) So Patrick decided on Thursday last week that we would stop looking for a van until after he'd submitted his thesis and I agreed that this was a most excellent plan.
Except that at lunch time Patrick had another look through the ads and he found a van that appeared to be just right – not too rusty, registered in BC, in our price range, and not a day's drive away. So on Thursday evening we headed up island and we met a lovely couple who were selling their van because their family had outgrown it. Patrick did a thorough inspection and chatted with the guy about the work he'd done on her, and then we took her for a test drive and we knew she was the one.
Meet Ginger!
She's originally from California, so her body has hardly any rust. For anyone who wants to know the technical details, she's a 1984 camper with a 1.9l water-cooled engine with a 4-speed manual gearbox. She can sleep four, and has a 2-burner stove, fridge, sink with a water pump, and of course, a pop-top so we can stand up inside.
Like most Vanagons, she's a work-in-progress. Patrick has already had the sliding door apart to add grease to the mechanism. But she promises many exciting adventures. And she doubles as my new writing space!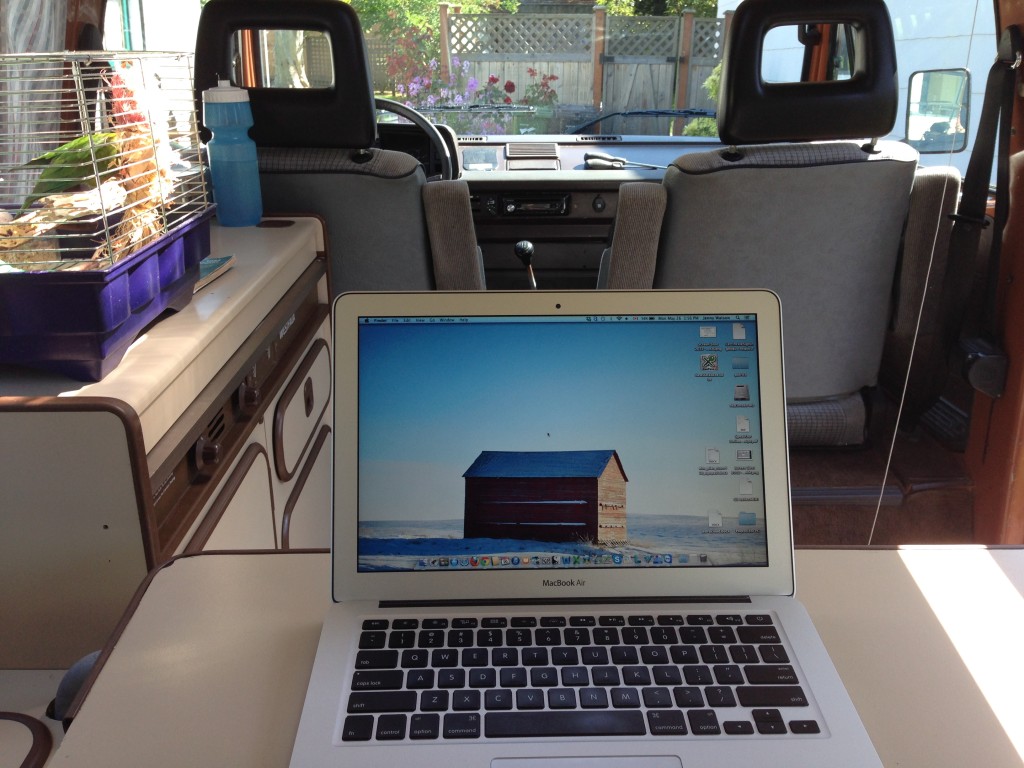 What do you think? Are we crazy? Or do you want one too?